Idaho Springs, Denver Cereal V16, will be available August 15, 2018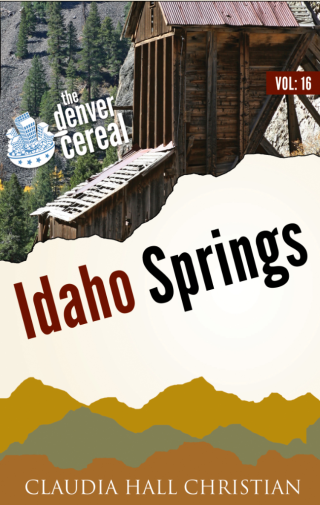 The long awaited, Idaho Springs, Denver Cereal V16, will be available August 18, 2018 everywhere you buy books.
Pre-order the book at:
What happens in Idaho Springs?
Sometimes the explanation is weirder than what actually happened. Idaho Springs is filled with fantastic, fun, and a little horrifying "reasons" things that happened. Some of the unremembered events of the wedding come into full view and they are more bizarre that you could imagine. But Sandy, Aden, Honey, and M.J. are on their honeymoons, right? Everything should be settling down.

But this is Denver Cereal. The next adventure is always just around the corner.

Just as Sissy reaches a crossroads with her recovery, Seth O'Malley's personal mentor and demon dies. The Denver Cereal gang descend on New York City to help Seth bury his friend while Seth and his old friends get caught in a fifty year old mystery. Not to be cast aside, Aden's ex-wife returns to cause trouble for Nash and Noelle.

Idaho Springs is Denver Cereal at its most weird fun, full of love, and filled with action where fantasy, paranormal, and everyday life connect to make the world called Denver Cereal. Started in 2008, Denver Cereal is one of the longest serial fictions ever written and published.
Join the Denver Cereal gang as they continue their incredible journey through life.
Idaho Springs will be available August 18, 2018. You can pre-order the book here:
Denver Cereal is the longest running continous serial fiction. Published one chapter a week, the serial posts to an international audience every day and weekly via the Internet, in volumes, and in rare compilations. (The next compilation will likely be in January 2019). Denver Cereal is one of the projects that spring from the outlandish, silly, quirky yet deep mind of Claudia Hall Christian.
If you are not yet addicted to Denver Cereal, you owe it to yourself to dive deep into this heartwarming and intense series.
-----