Season of Zucchini -- Zucchini Muffins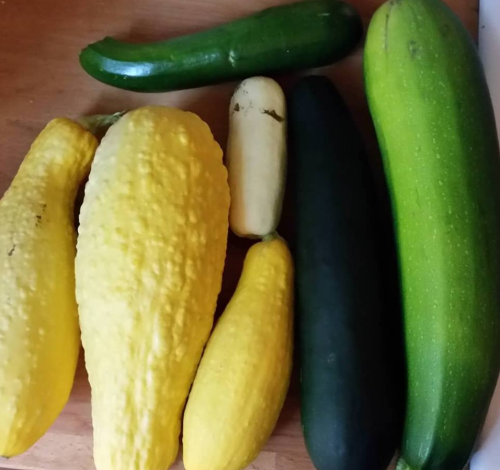 It seems to happen every year. At some point in the summer, we are inundated with zucchini.
This year, we have more than usual because... well...
We hadn't had a garden in a couple of years while I was going through my spine surgeries. This year was our first year back at attempting a garden.
I was discouraged when I was planting. It had gotten hot early. We had a massive hail storm that destroyed everything we planted early. I was sure that nothing -- not one thing -- would grow.
So I over planted everything. We now have squash of every kind coming out of our ears.
I have asked around on social media for people's favorite recipes. This year, I thought I'd keep track on the blog.
I started with one of my favorite recipes -- Zucchini Muffins.
I usually make as many as possible of these. We freeze them and eat them all winter. I slightly under-bake them so that we can warm them in the oven.
I use the recipe in Moosewood Restaurant Cooks at Home. I've had this cookbook for a long time. There are a lot of great, easy to make "clean" recipes inside.  If you don't have it, you will probably enjoy it.
Zucchini Muffins
(adapted from Muffin Madness)
Wet Ingredients
2 large eggs
1/2 cup of vegetable oil (I use grapeseed)
3/4 cup of brown sugar (I used Turbinado because we like the flavor.)
1 tsp of pure vanilla extract
2 cups of grated zucchini
Dry Ingredients
1 3/4 cups of unbleached white flour
1/4 cup of oat bran
---or 1 cup white flour +1 cup wheat flour or 2 cups gluten free flour or... I've tried a lot of these and they all work
1 tsp baking powder
1 tsp salt
1 tsp cinnamon
1/2 tsp ground cardamom
1. Preheat oven to 350
2. In a large bowl, mix together the "wet ingredients" adding the zucchini last.
3. In a separate bowl, add all of the dry ingredients. Use a whisk to mix the dry ingredients including spices. I prefer a flat whisk. (If you haven't used one, they're pretty great.)
4. Add the dry ingredients into the wet ingredients.
5. Prepare the muffin tins with oil or butter. Fill the tins and bake for 20-25 minutes. (I'm at altitude so they take at least 25 minutes depending on the day.) They will get brown and rise. They spring back to touch when they are done.
6. Let cool completely. I put two muffins in a ziplock bag and freeze them. They keep for up to a year.
Enjoy the muffins!
That's the beginning of zucchini season. Do you have a favorite zucchini recipe? If so, I'm looking!
-----