Day Five: Mini-Selfkindness Course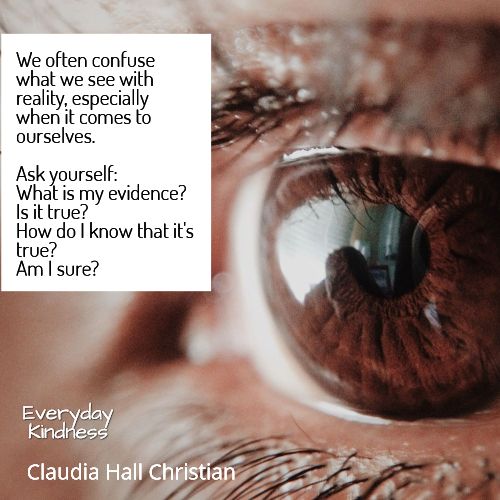 Day Five: Self Kindness Mini-Course
Today's conversation is a little complicated. Settle in and lets see if we can make some sense of this.
WE ARE NOT VERY GOOD AT SEEING REALITY
Let's face it. We are capable of seeing in a very small band of light. In fact, many people estimate that we cannot see over 90% of matter. (This is called "Dark Matter.") This just a fact.
Can you accept that we can only see in a small band of light?
Police departments take thousands of photo graphs of crime scenes because investigators cannot see everything. Investigators spend hours looking at photos of what they could not see at the scene.
Can you accept that good, talented investigators use photographs to see what they cannot?
Here's the thing -- YOU ARE NOT SEEING YOURSELF CLEARLY.
We use memories, experiences, training, and social trends to make choices about ourselves and our future.
The problem is this -- our memories, experiences, training, and social trends are not reality.
SO WHAT?
This thing you beat yourself up about is likely not real or true. It's something you heard or thought or believed. Women who were thin hated themselves when Marilyn Monroe was popular, but when Twiggy was the rage, women who were more curvy loathed their curves.
When you look at yourself, you see how fat you are or stupid or crazy or needy or... fill in the blank.
What's your evidence?
Is it's true?
How do you know that it's true?
Are you sure?
These things you hold against yourself are not real.
THESE THINGS YOU HOLD AGAINST YOURSELF ARE NOT REAL.
Maybe, just maybe, you weren't seeing that situation correctly. Maybe you simply got it wrong.
(Breathe. Don't panic. You'll be okay. Just breathe.)
How can you be kind to a stinker such as yourself?
You are a whole complicated human being. You have some great attributes. You suck in some ways. You are human -- good, bad, stupid, smart. Being alive means being everything at the same time.
I ask -- how can you NOT be kind to your imperfect human self?
-----