BEING KIND TO DIFFICULT PEOPLE -- You're just angry now because you have time. You'll forget all about it soon enough.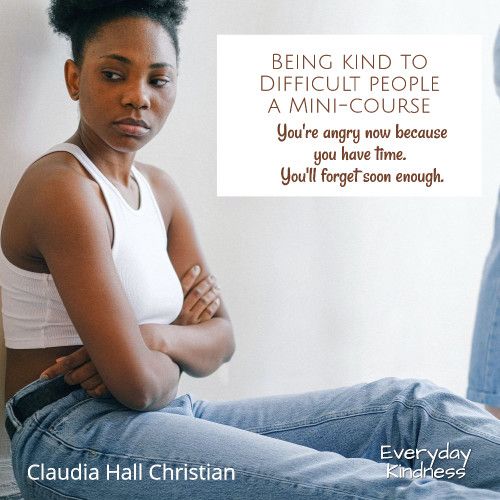 BEING KIND TO DIFFICULT PEOPLE --
You're just angry now because you have time.
You'll forget all about it soon enough.
I have heard this recently about the protestors on the streets of the world.
"Well, you know, school's out; kids need something to do." This is combined with a kind of "these kids these days" shake of the head.
An entire movement is reduced to "kids with nothing better to do."
I heard this very sentiment applied to the "Troubles" in N. Ireland. My parents and their friends said this about the hippies fighting to end the war and the civil rights movement. I heard people say this about apartheid protestors both here and in South Africa. I've heard people say this about the downing of the Berlin Wall. I've heard people say this about the violent protests against Putin.
This is something Foghorn Leghorn says in cartoons!
It is an effective way to dismiss the legitimate concerns of oppressed people.
But here's the thing --
Would England have given the Irish the right to vote if there weren't protests? Allowed parliament to reopen?
Would the wall have fallen in Berlin?
Would the Vietnam War have ended? Would the civil rights of our fellow Americans changed at all?
Would apartheid have ever come apart without the protests?
As for Putin, that nut may take time to unwind but it's only a matter of time.
Peaceful protest is the only way things have ever changed in our world. That's just a fact.
And here's another fact -- any war or protest started in anger will fail. Anger fades. This is so true that it's even a tenant in the military treatise "the Art of War" by Sun Tzu.
What do you do when you hear someone (or even your own mind) dismiss the efforts to create change?
My guess is that you'll be tempted just to smile, nod, and move away. But in order for real change to happen, these people need to get off the sidelines.
You cannot fight these people ideologically. They don't know enough to argue so will stick to basics -- "breaking the law is bad", "you know I'm right" or whatever people have said for centuries.
A good way to do it is to employ a technique that I call a "fact drive by." In this technique, you drop a fact bomb on someone and leave it alone. Let them think about it for a while. They're likely to come back to you and tell you the fact, as if they'd come up with it on their own. But what do you care? This is bigger than getting credit.
Facts that might work:
* "Peace protests are the reason we no longer have a feudal system of government."
* "Since the 1980s, police departments have been trained in military tactics to fight terrorists, not in how to diffuse domestic situations." or even
* "Police departments are asked to do everything now. They are only trained in military defensive tactics so can only bring that military action when they deal with angry children or mentally ill people or battered women or..."
* "Of course, you know that African-Americans and Latinx people aren't treated the same as white people." (This is a technique of providing someone with new information in the form of "you already know this.")
* Even better -- "You know, if you'll feel better if you stop watching so much Fox News." (I'm not sure why this one works, but I've seen it start movement away from the brain rot.)
One last thing to think about -- what are you doing to stabilize these movements? Yes, you.
How will you feel in six months when you're asked to pay more in taxes so that someone else can live a more just life? Are you supporting the leaders in your state and city who are trying to make change?
WE can stabilize this movement or we can dismiss it and let it fade. It's literally up to us.
I know where I stand. Where do you stand? Think about it. Now is the time to decide.
-----