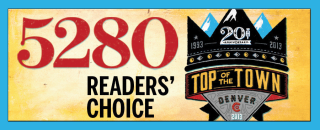 Amazing!
With your help, I won the 5280 Reader's Choice Award!
This year's prize came with an invitation to a swanky ball. We dressed up in ill fitting 1920s clothing and went to the recently opened Colorado History Museum.
Wined! Dined! We met a few celebrities and gawked at a few others.
The band played Jazz and Swing. It was so crowded that the husband took me up to a quiet corner where we danced. Very fun!
I was able to give away a copy of the Tax Assassin in everyone's SWAG bag. We don't know where that will end up, but it was a fun thing to do.
Through all of it, the thing that meant the most to me was that you could care enough to vote for me. I hope to continue to be worth of being your choice as an author.
Thank you for your support! Thank you for voting and caring!
-----