I'm the Top of the Town!! Can you believe it!?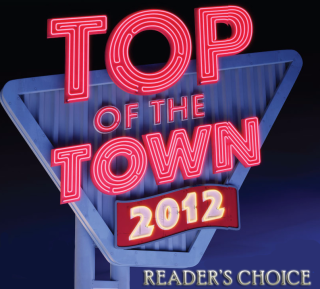 Did you see??
I won the 5280 Top of the Town award.
Ok, I'm sure you're wondering what 5280 and the Top of the Town award is.  5280 is Denver's only magazine. In fact, there was a Denver Magazine, but the owner of 5280 bought it  for $10 million dollars a year or so ago and closed it. (No joke.) 5280 is kind of swanky and upscale. More than anything, it's very Denver.
And without your help, they had no idea I existed.
Sure, I've talked to them about reviewing the Denver Cereal or even giving some books away. Nothing has ever flown. Writers are a dime a dozen and a serial what?
As for the Top of the town, all of the fine establishments that I and the Denver Cereal characters go to, like Pete's Kitchen, have a plaque on the wall that says: "TOP OF THE TOWN" and the year they won.
And now, so do I!!
What matters the most to me is that it's a reader's choice. I'm probably never going to win a bunch of swanky awards. I doubt I'll ever be published by a Wall Street owned publisher. I don't really care about that kind of thing. I just don't.
I care about my readers. I care about what my readers think.
This award, my first ever, is all the more thrilling because it came from you.
I am truly blessed to have readers like you.
Thank you to everyone who voted. This is truly a big deal to me.
-----