Things that work (for me) -- Calm app for Chrome
If you're like me, you're spending a lot of time gawking at the news.
There's no way to get anything done in this state.
One thing that has helped me in the past has been to use a productivity extension to my web browser. For example, BlockSite will block your access to any distracting website. I've used this app for years. It works in both Firefox and Chrome.
In 2017, the game changed when Calm.com introduced their own productivity application for Chrome.
It's awesome!
Here's how it works:
Download Chrome. It's faster and simply better. There are applications that will keep the lookey loos out. Go ahead.  I'll wait.
Get the Calm.com productivity from the Chrome Web Store. It's free. It will ask you if you wish to install it into your Chrome. Say "Yes."
That's it!
Here's what you're in for:
Click on the extension. Go to "Settings" and you'll get something that looks like this.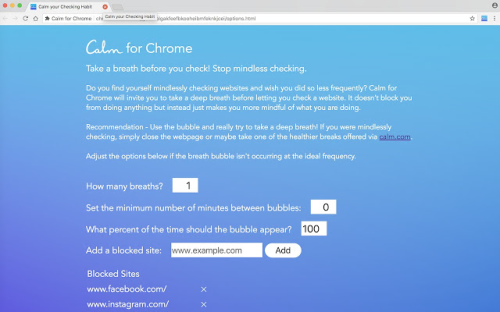 Tip: I set my "breaths" to 5. This will make more sense later.
You'll notice that every site you want to waste time at is automatically blocked by the application. You can easily add or remove sites.
Tip: I remove sites when I want to use social media, then put the block back on so that I don't miss the entire day.
So, let's say you put Facebook on your list.
When you try to go to Facebook, you'll get this: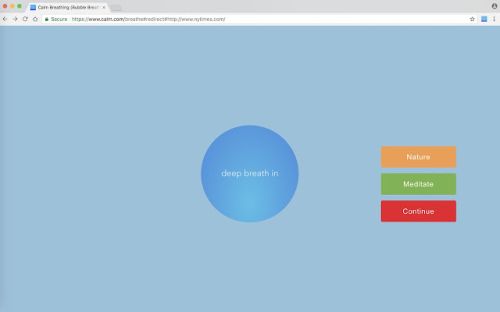 The bubble with expand and contract to encourage you to take a breath. The links take you to Calm.com meditations.
Here's the thing -- mindless websurfing is a symptom of being overwhelmed. What you really need is to take a breath - or 5. (Setting the breaths to 5 means that this blue button will expand and contract 5 times.)
If you decide you wish to browse Facebook for some amount of time, go for it. When you're done, click on the Calm.com web extension. You'll get something that looks like this: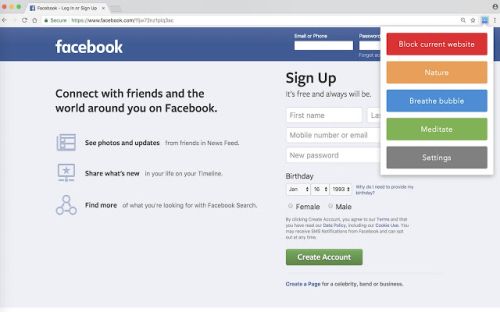 You can either click "block current website" to re-add Facebook to your block list or you can once again go to "settings" and add it there.
Tip: You have to make sure you use: "www.facebook.com" otherwise a few facebook links will creep in - dangerous stuff when you're talking about losing time.
The Calm app for Chrome is something that helps to keep me calm and focused on my work.
What helps to keep you on track? Feel free to let me know on Twitter, Facebook, or in the comments section.
-----