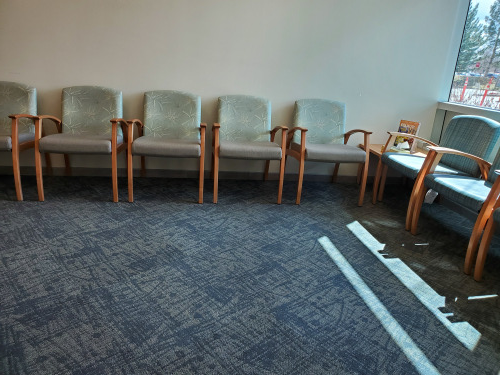 I have been in this waiting room at least five or six times a year for the each of last five years.
In 25 or more visits, this waiting room has never been empty before.
The waiting room feeds into the Spine Center at UC Anschutz as well as the pain procedure clinic. It's always full.
Always.
It was full three weeks ago when I check in for my pre-surgerical visit. It was full a week and a half ago when I went to turn in the wound vacuum.
It's now two weeks post surgery and the waiting room is empty.
You see, the hospital has cancelled all "non-emergency" surgery. Now, I would not be able to get the spine surgery I had on March 3.
Honestly, I had to fight like hell to get an appointment to remove the surgical staples.
In two weeks time, Covid-19 has changed everything.
Why is this a big deal? Here's a little background.
It took me nearly a year to get a referral to Dr. Burger at the Spine Center. You see, she usually works on other people's screw ups. So cases like mine aren't her normal. But I got a referral, and I made an appointment.
Then I waited nearly three months to get an appointment to meet with her.
We hit it off right away. We agreed on how much needed to be done on my back. We both share the aesthetic of doing as little as possible.
I waited six months after that initial meeting to have my low back fusion.
Less than a year later, they assured me that they'd fixed the scheduling problem.
I only waited two months for my "emergency" neck fusion.
This time, I was put on the surgery schedule by the PA I had been seeing, but was retiring. I waited two months to speak to the scheduler, two and a half more months to see the surgeon, and three additional months for the surgery I had at the beginning of March.
I've waited and waited and waited and waited and waited and waited.
Now, the waiting room is empty.
This week, I had a scheduled appointment with a Nurse Practitioner to get my staples out, but she was reassigned.
Who was available to take out my staples? The surgeon.
Since they are no longer doing surgeries, the surgeons and their PAs are doing patient follow up.
This viral pandemic is impacting every area of our lives. What was normal -- in this case a full waiting room -- is no longer.
I don't think that anyone knows where we'll be in a year or two.
I'm glad to still be here, sitting in the empty waiting room, waiting for my surgeon.
-----