My love of "Chef's Table" or one thing that dragged me forward when I was desperately ill. #HowIsurvived #WriterWednesday
By Source, Fair use
"It's hard to feel any kind of confidence when everyone tells you how horrible you are."
Will Goldfarb, Chef's Table, Season 4, Episode 4.
When I was really sick last year, I watched "Chef's Table."
I watched every episode over and over again. I slept through them. I watched them on my phone and again on the larger tablet.
The chefs inspired me, spoke directly to the artist in me.
Their conflicts were so similar to the struggles I had with writing and publishing. They FED people in the same way my writing FED people.
They had been disappointed.
They had failed.
They had reached great heights and failed again.
They had the game change right under their feet.
Just like I had.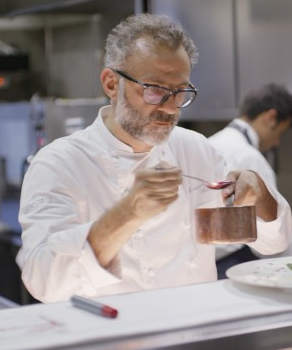 I absorbed the chefs, their struggle, their obstacles, and each moment, each decision, that helped them step into greatness.
The episodes virtually held me in my deeply sick state.
They whispered to me "You'll be okay. This is only a moment in your life. You will get up out of this bed. You will stop throwing up. You will be well and strong again."
I kept the Denver Cereal going -- sometimes one day (500 words) at a time. But that was about it.
There is a brand new Chef's Table season on Netlix.
When I heard the opening music, I started to cry.
I am not in my bed every day all day. I haven't thrown up in a long time (mostly thanks to Huo Xiang Zheng Qi Wan).
I'm not all the way back to health, but I'm a heck of a lot better than I was.
Listening to chefs talk about why they make what they make is so inspiring.
Of any art form, cooking is the closest thing to writing. They make a meal, people eat it, and then they ask: "What's next?" Writing is the same way. If you're lucky, you'll spend a year working on a book to hear a day after it's out that you really "need" to write another.
I have been very lucky in my career. One meal/one book leads to the next meal/book.
I love a long story, too. So it fits me.
Through this show, I see my life and my work in a way that doesn't look like a small room and a computer.
A year ago, in the middle of desperate illness, I knew I could do it.
Today, I'm better. I'm getting better every day.
Maybe some day, there will be a Writer's Table, and I'll be on that show.
Until then, you might want to watch this show.
Have you seen it? What is your experience with the show?
-----